Recent Reviews:
Quick Quotes:
"...West's voice, gorgeous, selfless and emotive."
~ Santa Cruz Good Times
"Songs to think about"
~ John Sandige, KPIG Radio
"There is truly a healing power in music, and Amanda West...holds this power in her songs."
~ Roanne Weisman, award-winning author and health/medical writer
"Songs written from the heart and most beautifully sung from the heart."
~ Peggy MacNeil, Isles FM Radio, Scotland
"...a gorgeously expressive voice, captivating melodies and contemplative lyrics."
~ Paul Freeman, Freelance Journalist
"I stand and applaud this absolutely engaging, stunning CD "The Way To the Water". West has produced a music manager's dream of an album..."
~ Peter Merrett, PBS Radio, Melbourne, Australia
"Thank you for putting my feelings to song. I never thought it was possible."
~ A Fan
Other Reviews:
of Womansong
* *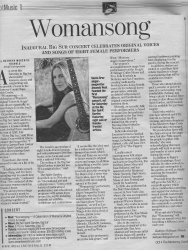 * *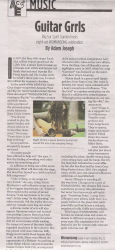 Conceptualized and produced by Amanda West, WOMANSONG (
www.myspace.com/bigsurwomansong
) brought together eight participating artists (including West), in a celebration of women's original voices & songs in the Big Sur Spirit Garden in August 2009. The evening's events benefitted the Monterey County Rape Crisis Center. The second bi-annual WOMANSONG is currently scheduled for August 20th, 2011 and will also benefit a supportive women's organization. These newspaper reviews are from the Santa Cruz Good Times, GO! Entertainment Guide for the Monterey Weekly, and The Monterey Herald. If you would like copies of the reviews please email:
of The Way to the Water
"In full-fledged support of the Socratic statement, 'the unexamined life is not worth living,' local singer-songwriter Amanda West releases her debut LP. The disc, aptly entitled, The Way to the Water, is a bold examination, both outward and inward, that delves deep into such universal themes as trusting one's instincts in the face of expectations, the search for truth and satisfaction and love's palpitations and travails. Sparse instrumentation, lush and intimate, focuses the attention on West's voice, gorgeous, selfless and emotive."
~ A. Martinez, Santa Cruz Good Times


"I stand and applaud this absolutely engaging, stunning CD "The Way To the Water". West has produced a music manager's dream of an album, one that sounds and feels perfect for our audience. She has captured and lured me into a musical exploration of her life's travels, woven into a textured CD of the purest quality. The songs are insights and statements of what is happening around her, held together by a stunning voice, accentuated by sweet guitar. This is an album to savor and enjoy, a musical journey through contemporary Folk music with some Bluesier elements for good measure. I have much pleasure in allocating this album to our announcers and of course, to a whole new audience for Ms. West's music."
~ Peter Merrett, PBS Radio, Melbourne, Australia





of Amanda West
"New Talent on the Block: TOUCH OF CREPENESS

Wednesday night at the Crepe Place saw a much more relaxed part of the rock & roll continuum, with singer/songwriters AMANDA WEST and ELIZABETH JONASSON serving up some relaxing tunes to complement those delicious crepes. After Jonasson's smooth keyboard set, West strapped on an acoustic guitar and sang through an evocative set list reminiscent of the queen of adult folk-pop herself, Sarah McLachlan.

Sitting at the bar munching my crepe du jour, I overheard conversation between two men that seemed worthy of print, given the impresive quality of West's performance. "Wow, this girl is sooo good," says Guy No. 1 with wide eyes and a bobbing head. "Yeah," concurs Guy No. 2, "this song is like a haunting lullaby, it's so beautiful." And it was.

West's flowing prose and intricate melodies were as alluring as - as the scent of thin pancakes coming from the kitchen. Mouth-watering? Oh yeah. Look out for her Feb. 15 CD release show at the Cayuga Vault."

~ Garrett Wheeler, Metro Santa Cruz


"Love Your Local Band: Amanda West

If you're a fan of brooding songstresses like Tori Amos, Enya, Sarah Mclachlan and Alanis Morrisette, you're going to like local singer-songwriter Amanda West. Strumming a quiet guitar, West delivers deeply-introspective acoustic folk rock with lyrics that have that direct-from-the-diary quality and gossamer vocals that effortlessly float and shimmer.

According to West, the Lilith Fair aesthetic in her musical style is entirely intentional. "They were women with amazing voices and emotionally reflective, intelligent lyrics that commented on the state of the world and the experience of being human. That is incredibly inspiring to me," says West. "I know that the struggle for gender equality has come a very, very long way, but the world of music still has a ways to go. You see many bands of all male musicians and they're called 'bands'. A band with all female musicians is never just a band—it must be a 'chick band.'"

West plans to debut her first solo acoustic album by Summer's end. The disc will bear all original tracks that West describes as "very personal" and "quite philosophical." When not logging studio time, West perform gigs all around town, both on her own and with two other local singer-songwriters Annie J and Elizabeth Jonasson in a trio the women have dubbed She-3. "I have enjoyed a lot of intimate experiences at shows here," says West. "I think people in Santa Cruz often tend to be very open and my music is a lot about emotional openness, so I think it can work very well here."

~ A. Martinez, Santa Cruz Good Times