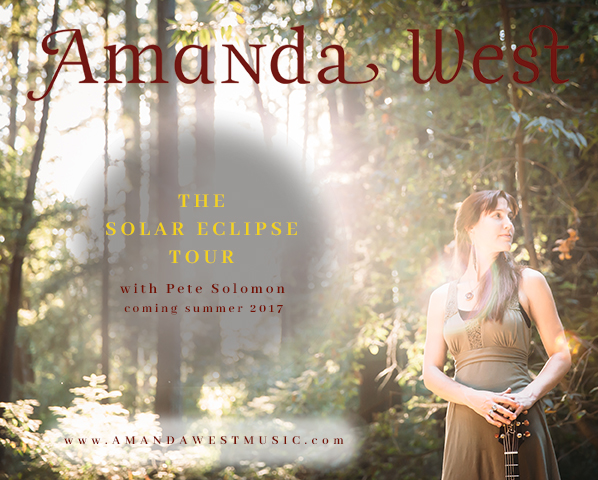 to say hello please write to:


(for a sampling of the newsletters click HERE)
SPRING 2017 UPDATE ~
Always, but particularly in these times, I am turning to music as medicine: in my songwriting, in my teaching, in leading community singing circles, and in the privacy of my own home, I sing to keep the light alive in heart and spirit.

Here in California, we have had a true winter this year with endless days of rain that flooded the rivers, bringing down mudslides, trees and roads. Our local storms have felt oddly parallel to the political climate of this country, which has also been profoundly tempestuous. All of it is a challenge, to hold steadfast in dark times, and continue the practice of love, hope and trust.

In the world of Amanda West Music we are busily working away, recording new songs and moving others out into the world. A new website is on the design table right now and with it, a restructuring of all I have to offer - I am so excited for you to see! We are also working with Concert Window to set up regular online concerts which can be viewed from anywhere in the world with internet access.

If you aren't already, please do join the mailing list by entering your email address above, and you will be the first to know about these exciting projects!

We will also be hitting the road again in August for a Pacific Northwest Tour. If you live anywhere between Santa Cruz and Portland and enjoy live music, or singing, consider hosting a house concert - anyone can do it, and it's the magical movement of independent music right now.

Whatever you do, please keep singing. The world needs ALL of our voices, our light, and our big strong hearts. Wishing you and yours a beautiful springtime!


------------------------------------------